Info Hub Project Data Synchronization and Visualization into DHIS2, Action Against Hunger, Bangladesh
An example of DHIS2 interoperability:
---
Action Against Hunger (AAH) is a global humanitarian organization that takes decisive action against the causes and effects of hunger. With its headquarters in Paris, AAH strives to save lives and strengthen children in more than 50 countries. Through initiatives in food security, water, sanitation, and hygiene, disaster risk reduction, and climate adaptation programs, AAH has been fulfilling the pressing needs of the people of Bangladesh since 2007.
Objective of the Info Hub Project: To improve the availability of information and support services for stabilising the livelihoods of vulnerable people in the host communities affected by the refugee crisis through introducing a system of information services.
The District Health Information System (DHIS2) is an open source, web-based application that is most frequently used as a health management information system in more than 70 countries, and the AAH Bangladesh team has been working on it since 2019. They deployed DHIS2 for the Cox Bazar District of Bangladesh with great success and created a number of datasets, events, and tracker capturing systems to gather both aggregated and individualized data.
The Monitoring, evaluation, accountability, and learning (MEAL) team wanted to import data in the Program Database Application (PDA) from Excel for the Info Hub project. The project staff collected approximately 28,000 demographic information of the direct beneficiaries through the KoBo over the past few months. This data needs to be imported into the new database the MEAL has recently developed for the project based on the PDA software.
The objectives of the task were to:
1. Deliver the solution of synchronization of the Info Hub project data within the shortest possible time;
2. Support to develop the dashboard visualization, and
3. Demonstrate the solving process of problems by the consultant from JaeTech Global to the ACF MEAL team members.
JaeTech Global has developed a web-based DHIS2 Interoperability tool 'KIPI' which supports integration of different data sources and software applications into a unified information management system, as well as interoperability based on open standards. KIPI aids to pull and push metadata and data for datasets, events, and tracker capture. It also supports Fast Healthcare Interoperability Resources (FHIR) API integration.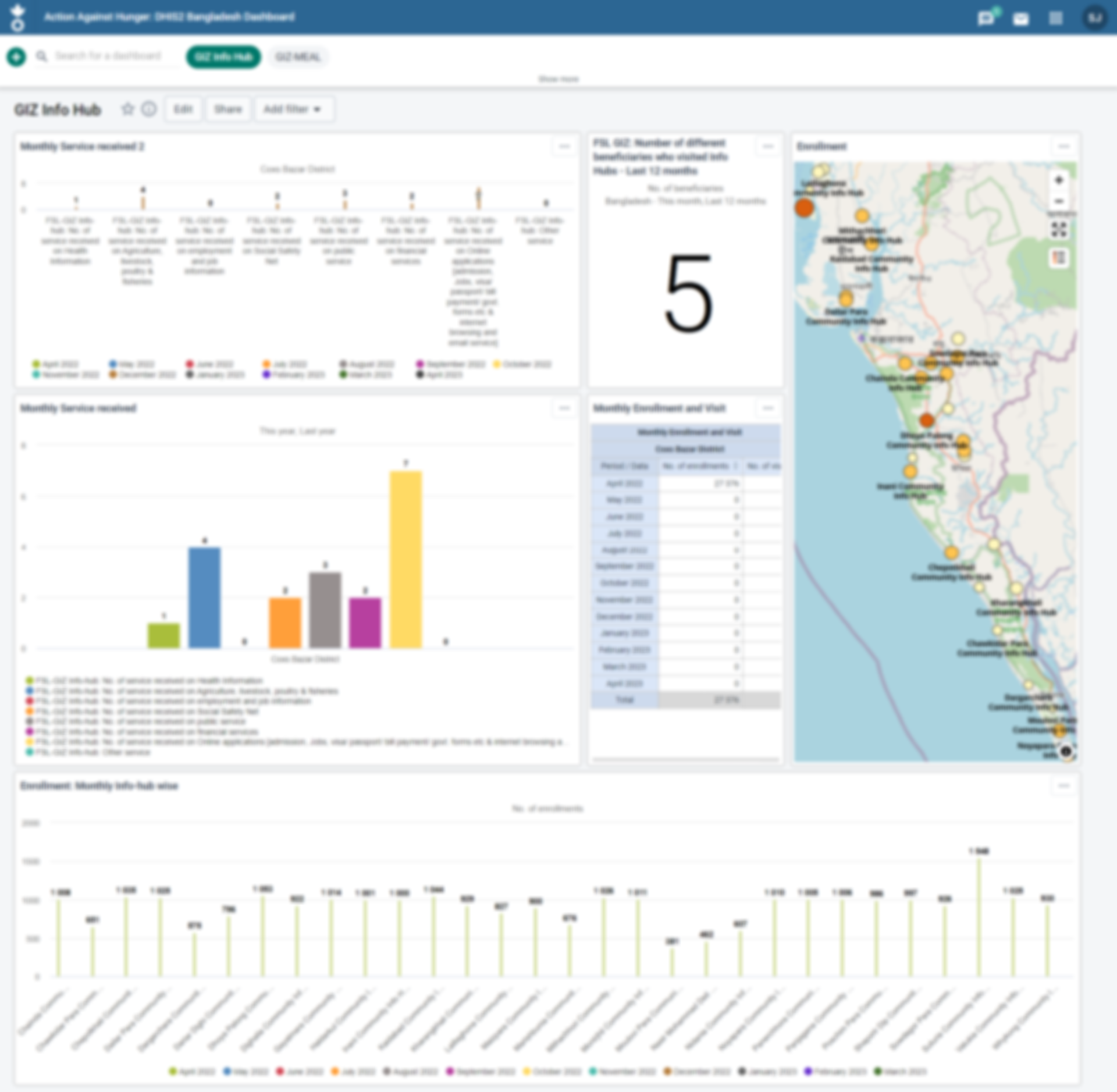 With the KIPI in place, JaeTech Global developed a new module for this Info Hub project with data import and synchronization logs. At first, the metadata of the project was mapped with the DHIS2 pre-developed tracker capture program and numerous attempts were made to transfer data with the failed transactions and maintain a full record for subsequent attempts. Finally, the data were successfully synched, and dashboard visualizations were developed for the AAH decision-makers. We are confident that our endeavor would increase the accessibility of information and assistance services for securing the livelihoods of vulnerable individuals in Bangladesh's Cox Bazar District. We gratefully acknowledge the AAH Bangladesh team for providing us with this opportunity to work.